Natu-B4™ and NuxaFen™'s abstracts were presented at ESPN 2023
Natu-B4™ and NuxaFen™'s abstracts were presented at ESPN 2023
Nuproxa Switzerland was present at the European Symposium on Poultry Nutrition (ESPN, 2023 edition). The event took place from June 21st to 24th in Rimini, Italy. On this occasion, PhD Cinta Sol, Product Manager at Nuproxa Switzerland, presented two abstracts on the topics " Efficacy of total substitution of synthetic choline chloride by a natural poliherbal-based product in broiler feeds" and "Grape polyphenols can replace synthetic Vitamin E under standard and challenging formulations".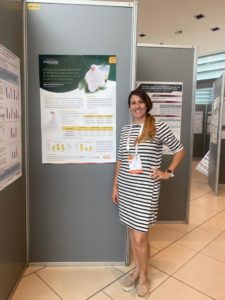 Natural substitute for choline chloride – Natu-B4™
The first study aimed to validate the effectiveness of a natural product based on polyherbal extracts (Natu-B4™), rich in phosphatidylcholine and other phospholipids, to completely replace synthetic choline chloride 50% (CC) in broiler diets at an inclusion rate of 1:5.7 (PH:CC 50% w/w). The study was conducted by the Zootests' research facility in Ploufragan, France, and involved 1170 one-day-old Ross 308 male chicks, lasting for 42 days.
This study demonstrated that a natural polyherbal-based product (Natu-B4®) can completely substitute choline chloride 50% in broiler diets without any significant impact on zootechnical performance.
Natu-B4™ is a natural polyherbal-based product recommended as a substitute for choline chloride (CC) in poultry diets. Its chemical characteristics provide greater bioavailability and metabolic efficiency compared to synthetic CC, while avoiding the inconveniences that different commercial forms of CC may present at the technological level in the production of feeds and vitamin premixes.
Effective substitute for synthetic Vitamin E – NuxaFen™
The second study aimed to evaluate the ability of a natural product based on grape dry extracts (Vitis Vinifera spp. Vinifera, NuxaFen™, Nuproxa Switzerland Ltd.), which contains high levels of polyphenols and proanthocyanidins with high antioxidant capacity, to partially or fully replace synthetic Vitamin E (VE) in broilers fed a diet with high levels of polyunsaturated fatty acids, iron, and metabolizable energy (ME).
Polyphenols act as antioxidants by scavenging free radicals, chelating metal ions that induce free radical production, and increasing the activity of antioxidant enzymes such as SOD, CAT, and GPx. The study was conducted by the Zootest research service in Ploufragan, France, and in a commercial barn (GAEC de La Ville Gestin, Gestin 22640, France), using 1,020 one-day-old chicks (Ross 308, male), with diets based on wheat, corn, and soybean meal, for 42 days.
This study demonstrates that grape extract (NuxaFen™) can partially or fully replace synthetic Vitamin E at a ratio of 1:11 without compromising zootechnical performance.
Commitment
Nuproxa Switzerland is committed to providing the animal nutrition and health industry with effective and natural solutions that bring proven benefits to animals. We constantly invest in Research & Development to offer only the best product options to the market, which are both effective and economically viable.
To learn more about these abstracts and discover how Nuproxa's natural solutions can improve animal performance and health. Visit our website at www.nuproxa.ch and contact us.
About Nuproxa Switzerland
Founded in 2007, Nuproxa is a company specialized in natural solutions for the animal health and nutrition industry. Its mission is to offer high quality products with high cost-effectiveness and safety. The company is FAMI-QS certified and its products have proven efficacy for animal health and welfare, with tests conducted in the world's most renowned research institutes and universities and results demonstrated in real experimental and commercial conditions. Present in more than 25 countries in Latin America and Europe, Nuproxa has been growing at an average rate of 20% per year, as a result of the company's strong commitment to its business partners, to the R&D of its products and mainly to its customers.